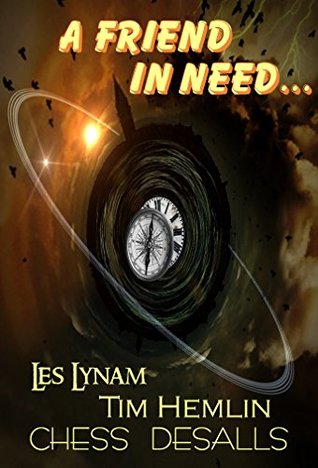 Having read, and loved, all the books (so far) in Les Lynam's Time Will Tell series and the first two books from The Call to Search Everywhen by Chess Desalls, I was over the moon when I was offered this book to read.
A Friend in Need is a brief but interesting insight into what happens when a couple of the characters from each of the above series end up in the Wasteland (Tim Hemlin).
It was well-written, as can be expected with three authors working on one book, and the crossover between the books worked well and seamlessly. It's a wonderful and fun interlude for readers of any of the series involved... I would have loved it to have been longer!
I have not yet read Tim Hemlin's The Wastelanders, but I was fascinated by the brief introduction to that world and will be reading it as soon as possible!
Synopsis:
A Friend in Need features three different YA authors who combine their talents to create an intersection in an apocalyptic world populated with characters from their respective novels. LX and Jane (from Lynam's Time Will Tell series) time-crash into Tim Hemlin's The Wastelanders. Their only hope of returning to their own world requires help from Bear, Caballito, and the time-witch. Enter Calla and Valcas, (time-travelers from Chess Desalls' Call to Search Everywhen series,) who land in the wastelands while conducting a time-search of their own. Will the travelers be able to return, or are they stuck in the wastelands forever?
The Authors:

Les Lynam
Les Lynam (1954- ) was born in Creston, Iowa, into a farming family which also included an older brother and two older sisters. The family farm was near the tiny community of Corning, Iowa, (birthplace of Johnny Carson). After graduating from Corning High School, he attended Central Missouri State University (renamed University of Central Missouri in 2006), graduating in 1976 with a Bachelor's degree in Mass Communications. After a short, mostly unsuccessful, attempt at running a print shop, he refocused and returned to a life of studies at the University of Missouri. He received an M.A./M.L.S in 1986 and began a new career as a librarian at Ward Edwards / James C. Kirkpatrick libraries at UCM. He took an early retirement on December 31, 2012 to pursue his lifelong dream of writing Science Fiction. His premier novel, "...Saves Nine", was first published in 2014 with hopes and dreams of many more to come. His favorite sub-genre of Science Fiction is Time-Travel, with Martian Colonies a close second. He has one son and three grandchildren.
Tim Hemlin
Tim Hemlin is a marathoner, has taught middle school English Language Arts for over 20 years and now puts his master's degree in counseling to work as a high school counselor. His passion for the environment sparked him to write The Wastelanders, a dystopian-clifi published in both e-book and paperback by Reputation Books. He is represented by Kimberley Cameron of Kimberley Cameron & Associates Literary Agency.
In addition to The Wastelanders Series, he also published the Neil Marshall series of culinary mysteries set in Houston, Texas. These include If Wishes Were Horses, A Whisper of Rage (nominated for a Shamus Award), People in Glass Houses, A Catered Christmas (the one he most enjoyed writing), and Dead Man's Broth. He has also has various short works of fiction, most prominently published in Ellery Queen Mystery Magazine.
Tim Hemlin currently lives with his family outside Houston, Texas. When he's not writing or counseling, he runs marathons.
Chess Desalls
Chess Desalls is the author of the YA time travel series, The Call to Search Everywhen. She's a longtime reader of fantasy and sci-fi novels, particularly classics and young adult fiction. Her nonfiction writing has led to academic and industry publications. She's also a contributing editor for her local writing club's monthly newsletter. The California Writers Club, South Bay branch, has awarded two of Chess' stories first place for best short fiction. When she's not reading or writing, she enjoys traveling and trying to stay in tune on her flute.