Once you start reading this series you will NOT want to stop!!
Demon Within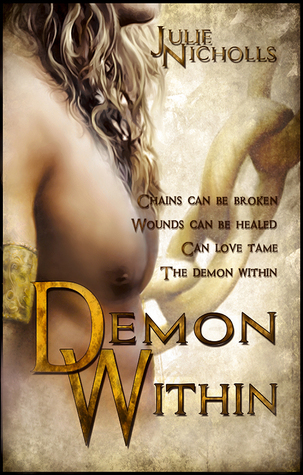 Julie Nicholls is an awesome story-teller.
Demon Within is a well-written book, that trips along at a good pace. There were steamy scenes, violent fights, and plenty of surprising twists and turns, to keep me turning the pages.
The characters are strong and well-developed. I feel as though they are old friends, as I've lived alongside them through the sadness, joy, betrayal, rage and excitement of the tale.
The world in which they live is easily 'seen' thanks to the vivid descriptions throughout the book.
Thanks must go to Julie Nicholls, who gifted me an ecopy of the book!
Synopsis:
When Angels ruled the heavens and mortals...one dared to risk everything for the love of a human and paid the price of eternal damnation.
Kai, sold into slavery at a young age, fought in the fighting pits of Darkmide, struggles with a violent, uncontrollable force that feeds on his anger. Coerced into an alliance with a King, Kai is offered his daughter Eloise, as a wife. In a twist of fate, she's the only person able to bring Kai back from the edge when the demon within takes control.
When an act of betrayal causes the alliance to break, he rejects Eloise, bringing forth all his fears of being alone. Stubborn and running away from confrontation, Kai is about to lose the only person who isn't afraid of him.
A connection between Kai and a fallen angel is discovered, as the angel systematically destroys all towns he's connected with, bringing the two together in a fight for dominance. Only time would tell who would prevail.
Angel Within
The first book, Demon Within, was awesome and I was desperate to see what would happen next... I was not disappointed!
All my old friends are back in this sequel and together we fell in love and met new friends, and we fought old and new enemies.
The descriptions are so vivid that you're drawn into the book. I could say that reading this book was like watching a film inside your head, but for me it's more like being a character in that film.
The story is full of surprises, intrigue, and adventure, and will keep you involved and turning the pages to the end... and what an ending! I need to read the next book now.
The books do need to be read in order and are definitely for adults.
Thank you, once again to Julie Nicholls, who gifted me an ecopy of the book!


Synopsis:
Jana, a powerful witch, and Tigan, a deceitful mercenary from Sabe and Kiera's past, join forces to summon Samyaza, one of the most powerful of all fallen angels.
The witch strikes a bargain with the fallen angel to possess Tigan, making him indestructible in battle. In exchange for granting this gift, Samyaza seeks a sacrifice, someone gifted with seraph abilities in order that he can free himself of the bonds that hold him captive in hell.
It's a race to save the sacrificial offering, and to stop Tigan from becoming possessed. Kai and Sabe join Brightstone and Blackhill's forces to rid the world of the powerful, evil witch and Tigan. Once again the seraph come to the warriors aid, yet at what cost? The final battle culminates with the transformation of Eloise from a timid queen to a feared warrior, as her husband fights for his life, and freedom from bondage, once more.
Ascension Within
Wow! A fantastic conclusion to what has been a fantastic series.
For the final time, I joined Eloise, Kai, and all their friends in their adventures as they endeavoured to win the game and save all of humanity.
I am going to miss them all!
I don't know what to say about this book, that I haven't said about the previous two. The steamy scenes, violent fights, surprises, intrigue, and adventure, that I loved in the first two books, are all back in this book, along with more sadness, joy, secrets, rage and excitement.
If you haven't read Demon Within and Angel Within, then you need to read them before you read this one.
Thanks again to Julie Nicholls who gifted me an eCopy of the book.
Synopsis:
The story continues from book two, Angel Within, where we left Eloise in a state of unrest at Kai's disappearance. Can Eloise save Kai? If she does, is he going to be the same man she fell in love with? Or will he revert to his old persona? Confused by overwhelming emotions of despair and betrayal over losing her lover, Eloise finds inner strength and rages with determined purpose to aid her husband's return.
Together with her comrades and the angel, Anael, she makes her plan to rescue Kai, but as always when dealing with angels, it is not so easy. The angels are cooking more plots and schemes; they just won't leave the mortals alone! Anael reveals additional secrets regarding Eloise and Kai's past, and she's angry and hurt. Lashing out at the Angel, she condemns his actions and his interferences with the lives of mortals.
The battle is on to release Kai, and to save the souls of man from Nivel, a dark angel. He's playing a dangerous game and the prize is all of humanity.
The witch Jana is aiding Nivel. What deceit is she planning this time after hiding her intentions in Angel Within? Nivel strives to win a game he and Anael started over 25 years ago, but who has the better team?
You will learn everything in the final book, Ascension Within, book three in the Fallen Angels Series.
Ascension Within has more secrets and plots, just as with Demon Within, and Angel Within. Together with sensual, erotic bedroom scenes, and an adventure that will keep you guessing, you will be riveted to know the conclusion of this saga.
The Fallen Angels series is a story of love, passion, good overpowering evil, and loyalty.
The Author:
Julie Nicholls was born in Hull, East Yorkshire, England. Her love of writing didn't fully develop until she moved to Bulgaria after retiring from work at the age of 42. Living in a small village in the South of Bulgaria with her husband and two dogs, Julie enjoys country-life and the freedom retirement brings.
She's the owner of "Literally Sensual" on WordPress, along with other writing friends, but is more known for writing Fanfiction and receives regular reviews.
Painting and drawing is Julie's other passion. From a child, she would spend most of her time drawing horses and birds and now enjoys making book covers, banners and paintings of her favorite celebrities. You can find her work at
www.juliemirishkanicholls.wordpress.com
The release of her first novel, Demon Within, encouraged her to continue writing a sequel. And now Demon Within is the first in a series called "Fallen Angels".